Home
Talk

0
85pages on
this wiki
Welcome to Case Closed Wiki!
Hello and Welcome to Case Closed Wiki! We are the small and sustainable wiki that is powered by codes like HTML, CSS, jQuery and Javascript and currently have 575 pages but YOU can help!
Start now by: 
Latest News 

Not Enough News For You? You Can Help By Publishing Your News Of Any Kind In Our Forum !
Plot Of Case Closed
Shinichi Kudō a 17-year old prodigy known as the "Savior of the Japanese Police Department" (日本警察の救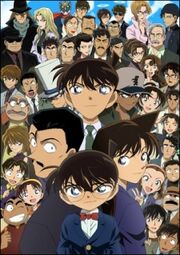 世主, Nihon Keisatsu no Kyūseishu) due to his solving of many difficult cases and great intellect and intelligence. He takes his good friend Ran Mōri to the theme park called "Tropical Land" because she won the regional tournament in karate. A murder case soon happen in the Roller-coaster, which Shinichi solves the case. After the murder, Shinichi sees one of the suspicious man in black that he have seen earlier and decided to spy on him. Shinichi then sees a blackmailing case which he tries to take a picture of, not noticing his second partner, he has been knocked down and got a poison named "APTX 4869" within his body, which shrunk his body into a elementary school kid, which the poison was meant to kill him. Shinichi goes under the alias Conan Edogawa and stay at Ran's place until he captured the Black Organization to get the antidote and to get his real body back.




This article was originally written by ElgineLachica 01:46, June 21, 2013 at http://case-closed.wikia.com/wiki/Thread:2291. Photo provided by Kevingirl1 6:19, September 17, 2013.
Weekly Manga Chapter Summary
This chapter is out now at Mangareader! Read it now !
Just before Detective Takagi and Detective Sato goes downstairs to interview the nearby residents about the murder, the members of the Junior Detective League follow the murderer — Toshinari-san — throughout the house trying to let the puzzled detectives know that he was the real murderer. Conan suddenly traps Toshinari-san in a corner of deductive words allowing the detectives to figure a part of the story. In the end, Toshinari-san finally gave up on hiding his secret and the Junior Detective League gains another solved case.
Twitter Feeds
Tweets by @Caseclosedwiki1
Weekly Poll
The poll has been transferred to template:POLL-16-09-2013. Sorry for any Inconvienience.
Did you know...
This manga has now more that 800 chapters?
This manga was originally inspired by the Sir Conan Doyle series of Sherlock Holmes?
This Manga won the 46th Shogakukan Manga Award in the shonen category?
This Manga's Anime is ranked either 3rd or 6th  on TV Anime?
Conan or Jimmy was supposted to represent Sherlock Holmes and Kaito Kid was supposted to be Arsene Lupin?
Special Links
Chat
Live! Chat
0
Case Closed Wiki