Welcome to Case Closed Wiki!
Hello and Welcome to Case Closed Wiki! We are the small and sustainable wiki that is powered by codes like HTML, CSS, jQuery and Javascript and currently have 628 pages but YOU can help!
Start now by: 
Latest News 
Manga Volumes 50 and 51 will be released in April and May.
Case Closed is now available on PSN, XBL, Amazon Video and ITunes! 

Not Enough News For You? You Can Help By Publishing Your News Of Any Kind In Our Forum !
Plot Of Case Closed
Jimmy Kudo, a 17 year old Teen Detective, took his childhood friend Rachel out on a date. After leaving the date, he was attacked and fed a poison. He wakes up to find he has shrunk into a little boy about the age of 7, despite still having memories of being 17.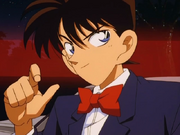 The plot gets deeper when he tries to find the men who did this to him. 
Latest Case Closed Releases
This list is an up to date list regarding the latest episodes, movies, games and manga.
ANIME: Episode 130 - The Disappearing Weather Girl Case  (2010)  (Anime Ended)
MOVIE: Movie 6 - The Phantom of baker street (2010)   (Movie series ended)
VIDEO GAME: Case Closed - The Mirapolis Investigation (2009)    (Games Ended)
MANGA: Volume 50 - (2014)  (Manga Ongoing)
Twitter Feeds
Weekly Poll
The poll has been transferred to template:POLL-16-09-2013. Sorry for any Inconvienience.
Quick FAQS
Q: Will Funimation Dub More Episodes or Movies?                            A: Funimation has announced they will not be dubbing more, however, they recently made Seasons 1-5 available to own Digitally.              
Q: Will the Manga Continue, at least?  A: Thankfully, yes. VIZ Media will continue to release the Manga, and Volume 50 will release April 2014.
Q: Any new video games?                    A: There are no new official games, but a fanmade visual novel series is coming . 
Special Links
Chat
Ad blocker interference detected!
Wikia is a free-to-use site that makes money from advertising. We have a modified experience for viewers using ad blockers

Wikia is not accessible if you've made further modifications. Remove the custom ad blocker rule(s) and the page will load as expected.